by Michael Hickman, REALTOR® at Keller Williams Community Partners
In talking with a couple of different clients last week about listing their homes, each mentioned that they should possibly wait until Spring 2016 before listing their home due to the big drop-off in housing sales after school starts.  While this was a definite trend several years ago, the Fall market has been fairly strong for several years now.
I ran a data search for 2010-2014 which included all detached home sales (not condos or townhomes) in Forsyth County, Georgia.  That search revealed that the peak month for sales moved slightly each year, with a progression like this: May, June, July, July and June.  That's a definite trend towards the old traditional May peak to one later in the year.  In fact, July 2014 was just a handful of homes short of being the peak last year.
When I looked at the lowest total sales in these months, the progression goes like this: October, April, April, March and March.  It looks like the old monthly sales trends really changed for some reason in 2011.  I'm not an economist, my degree is in Civil Engineering, so I won't begin to try and reason out the "why".  That's for college professors.  I just need boots-on-the-ground data to help advise my clients.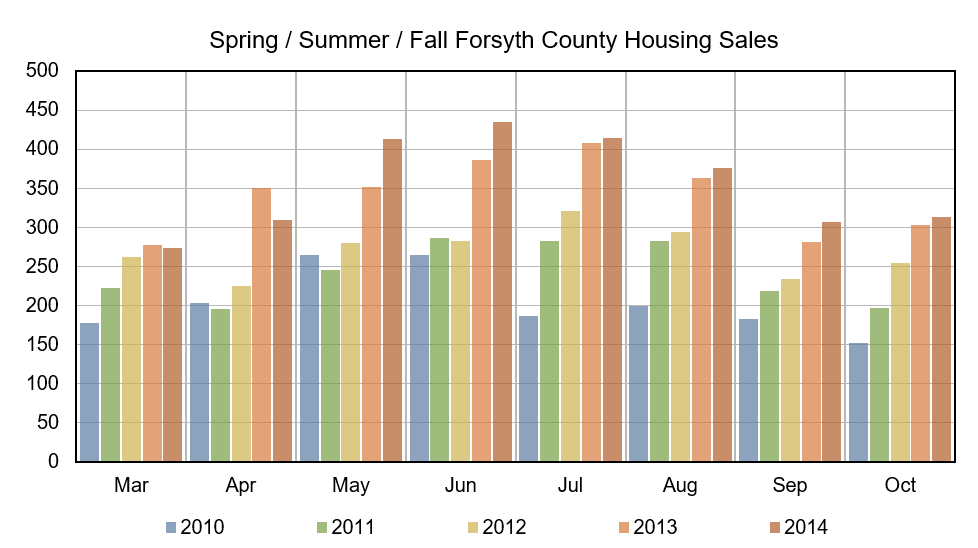 The bottom line is that the seasonal "Spring market" has flattened out and spread all the way into October, which means you can sell your home when you put it on the market in August.  The drop off in sales from the peak is double-digit significant, but it isn't the drastic numbers we once saw.  In fact, you have a better chance to sell your home in September or October than you do in March or April.
If you would like to contact Michael to talk over these trends or discuss buying, selling, building or investing, contact him via phone/text at (404) 444-3446 or mike@kwHickman.com
Michael Hickman is an independent agent of Keller Williams Community Partners, (678) 341-7400.  Keller Williams Community Partners is an independent franchise of Keller Williams Realty International.  Equal Housing Opportunity.