The 2015 Colors of Fall Art Exhibition Enriches Community for Third Year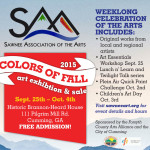 August 7, 2015 – Cumming, Georgia – The Sawnee Association of the Arts (SAA) has announced its third annual Colors of Fall Art Exhibition and Sale. The free event will be held Sept. 25 – Oct. 4 at the historic Brannon-Heard House in downtown Cumming, Georgia. This juried show will boast original works by local and regional artists in various mediums that include painting, drawing, photography, mixed media, pottery, wood working, glass, fiber arts and jewelry. SAA hopes that this week long celebration of the visual arts will provide an engaging and inspirational experience while enhancing arts appreciation throughout the community.
Carla Beasley, Co-chair for Colors of Fall states, "The event will have something of interest for everyone. In addition to the amazing art, there will be a broad range of events guaranteed to delight both aspiring and experienced artists as well as art lovers of all ages."
A full schedule of events will be held throughout the week. One of the featured events will be the inaugural Quick Paint Plein Air challenge taking place on Friday, Oct. 2nd. Painters of all mediums will gather throughout downtown Cumming to capture various outdoor scenes. And spectators will enjoy watching these paintings come to life before their very eyes! At the conclusion of the plein air event, prizes will be awarded to the artists and the paintings will be available for purchase. Additional Colors of Fall events will include a Beginner's Painting Essentials workshop on Sept. 25th hosted by local artist Jeanne Matey of Soulful Art Studios; artist demos, lunch n' learns and evening "Twilight Talks" during the week, and a dedicated children's art day on Oct. 3rd.
Kris Straukas, President of the SAA hopes the event will spark imaginations and create enthusiasm for the arts. "Colors of Fall is another opportunity for SAA to increase arts awareness within the community. We feel that promoting local artists and providing enriching visual arts experiences for the residents of Forsyth County and surrounding communities is extremely important."
Please visit sawneeart.org for the full listing of exhibition hours, featured event dates, times, and registration info.
The SAA thanks the Forsyth County Arts Alliance and the City of Cumming for their generous sponsorship and support of the 2015 Colors of Fall Art Show. If you should have any questions about the event, please send an email to SawneeArt@gmail.com or call 678-936-6422.
About Sawnee Association of the Arts:
Founded in 1974, the SAA has served the Forsyth County community as a 501 (c)(3)- 509(a)(2) non-profit organization for more than 40 years. The organization is dedicated to providing a rich, visual arts experience for Cumming and Forsyth County residents by organizing shows and exhibits throughout the year. Its many members include painters in oil, water color, acrylic, and other media; potters, wood turners, 3D artists, photographers, fiber arts as well as community art advocates. Membership is open to anyone regardless of experience and ability. To learn more about SAA, please visit www.sawneeart.org