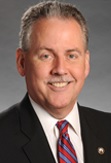 During the third week of the Georgia General Assembly's 2015 legislative session, my colleagues and I passed one of the most important pieces of legislation of the year: the 2015 amended fiscal year budget (AFY 2015). This budget, which is a mid-year adjustment of state spending through June 30, 2015, was first introduced by Governor Deal two weeks ago at the Joint Appropriations hearings. Since then, the AFY 2015 budget has been carefully reviewed and edited through a series of Appropriations Committee meetings. Thanks to the committee's diligent work, the House version of the Amended Fiscal Year 2015 (AFY 2015) budget was packaged into House Bill 75 and was voted on and passed unanimously by the House on Thursday, January 29.
The House version of the AFY 2015 budget is very similar to Gov. Deal's initial budget proposal. The amended budget includes an addition of $276 million in "new" funds, with 70 percent of that going towards education. Of the new education dollars, $128.5 million will go towards K-12 enrollment growth and $35 million will be added for local school systems to expand their wireless broadband internet connectivity. The House version of the budget also designates $7.4 million for equalization funding grants that will provide additional funds to K-12 systems that qualify based on per student criteria. Higher education was also set as a budget priority, with funds designated for new engineering and military scholarships and the creation of the Georgia Film Academy. Lastly, the amended budget also includes $750,000 to support the Governor's newly created Education Reform Commission. I am happy to see our state continue to put money into our school systems, as our children are our most precious resource.
While investing in the quality of our children's education is a primary focus in HB 75, there are also several significant additions for economic development in our state. As we strive to ensure that Georgia remains the number one state in the country to do business, the House version of the AFY 2015 budget appropriates $20 million in grants towards job-creating economic development projects through the OneGeorgia Authority, as well as $20 million for Regional Economic Business Assistance grants. OneGeorgia and Regional Economic Business Assistance are two of our state's most effective economic development tools for attracting new jobs to Georgia. In addition, $1.5 million is set aside to keep Xpress buses running in 13 metro counties, and $4.5 million will go to support routine maintenance in the Department of Transportation. By financing transportation and economic development projects such as these, we can make Georgia an even better place for business for years to come.
With a thriving economy comes an increase in our state's population, and it is crucial that we take measures to ensure the good health and safety of all citizens. More than $5 million in the AFY 2015 budget is allocated for driver education programs to improve safety on Georgia's roads. Funds are also set aside to expand the length of the Department of Corrections' Residential Substance Abuse Treatment program from six to nine months, and the Board of Regents is issued $4.8 million to provide clinical trials on cannabidiol for children with medication resistant epilepsy. These programs, among others, will make Georgia healthier and safer for families across the state.
I authored and introduced two bills last week, HB 117 and HB 121. HB 117 is an unemployment insurance housekeeping bill that will provide efficiencies to the Georgia Department of Labor as well as provide several clarifications in determining the last employer when UI claims are filed. HB 121 is an elections housekeeping bill that is the result of a two year study and subsequent recommendations by the Secretary of State Election Reform Council. This legislation will improve election efficiencies, strengthen securities and clarify some confusion that occurs at polling locations.
I also co-sponsored several pieces of legislation that were introduced last week, I know they will be debated this session and will be of great interest to many. HB 57, authored by Rep. Mike Dudgeon, represents a great collaboration and consensus with many stakeholders on the financing of solar panels. HB 122 authored by Chairman Chuck Martin, is legislation that begins the process of eliminating the $5,000 Georgia tax credit on electric vehicles. HB 170, authored by Chairman Jay Roberts, is probably the single piece of legislation that has been most mischaracterized this year in my opinion, especially since it was only first introduced on Thursday. It begins the important legislative process of determining the appropriate transportation funding mechanisms for Georgia. We held eight public hearings around the state and provided those findings to our colleagues and the public in December. As in any reform, there will be a great amount of debate in both the House and the Senate and much public interaction. I look forward to this legislative and public discussion and I look forward to final legislation that will provide the transportation funding that we need in Georgia and one that Georgians will support. I will continue to do all I can to ensure that first, all taxes collected for state transportation purposes go to state transportation needs as represented in HB 170. I will offer additional comments and updates on these bills as they begin moving through the committee process.
In addition to passing the amended budget, we also took time to recognize some outstanding citizens across our state. On Monday, January 26, the House celebrated Georgia National Guard Day in honor of our brave Georgians in uniform. Dozens of airmen and soldiers visited the State Capitol and were recognized for their accomplishments on the House floor with House Resolution 27. We also had the honor of witnessing a new member of the Georgia National Guard be sworn into the Army National Guard by our colleague and World War II veteran, Representative John Yates. It was an honor to meet this new soldier, as well as the many others who make such tremendous sacrifices for our freedom and safety.
On Tuesday, Jan. 27, we had the privilege of meeting another group of courageous Georgians in honor of National Holocaust Remembrance Day. On this day, we paid special tribute to the Holocaust witnesses of liberation. These heroic Americans served in the U.S. military during World War II, and therefore witnessed some of the worst atrocities in world history. They were each recognized in the House Chamber for their contribution to history preservation and the role that they played in the liberation of the Holocaust. Our colleague, Representative John Yates was among the six honorees that were recognized before the House.
Finally, last week we welcomed members of the Atlanta Hawks basketball team to the Gold Dome.  Hall-of-Famer Dominique Wilkins, CEO Steve Koonin, coach Mike Budenholzer, shooting guard Kyle Korver, and forward Elton Brand all visited the capitol on Tuesday, January 27. After a recent16 game winning streak, the Hawks were recognized before the House for their sportsmanship, citizenship, and positive economic impact on the city of Atlanta and Georgia.
As the 2015 legislative session moves into this fourth week, committees will be meeting more frequently to discuss pieces of legislation. I would love to hear your input on any bills that come before the House because your participation is always helpful in understanding my constituents opinions, thoughts and recommendations. Please call my office at the State Capitol in Atlanta at 404-656-5132 or e-mail me at mark.hamilton@house.ga.gov should you want to reach me. Thank you for allowing me the opportunity to serve the citizens of Georgia and representative the citizens of the 24th district. God bless you and your family.
Sincerely,
Rep. Mark Hamilton
Capitol Address
218 State Capitol, Atlanta, GA  30334
404.656.5132 – Office