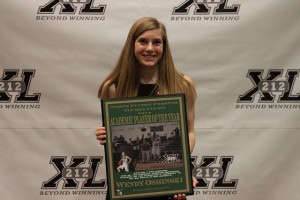 Wendy Oshinski, a senior athlete at Pinecrest Academy, has been named "Female Academic Player of the Year" by the North Fulton Forsyth Tip-Off Club.
Serving as captain of the Pinecrest Varsity Girls Basketball team and averaging 7 points per game, Wendy has a 4.1 grade point average, scored a 33 on her ACT, and is ranked 9th in her class. She is also a member of four honor societies.
According to Pinecrest Head Coach, Ken Lacey, "Wendy is one of the hardest working defensive players on the floor and has a tendency to hit big shots in big moments. Her determination is her strength, and every day she pushes to be better than the day before."
Wendy was one of eight 2015 year-end award winners, honored at a banquet held at Lanier Tech Forsyth Conference Center on March 9, 2015.