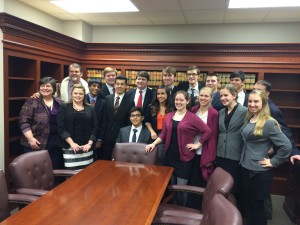 The Pinecrest Academy Mock Trial Team triumphed in the Mock Trial District Competition held in Dalton, Georgia in February, to become one of eight District Champions.
To become District Champion, six regional champion teams competed in head-to-head knockout rounds. Pinecrest Academy prevailed undefeated in Regional Competition to become one of eight Mock Trial District Champions in the State of Georgia.
In addition to Pinecrest Academy, the District Champion teams included Jonesboro High School, Northview High School, Decatur High School, Westminster Christian Academy, Atlanta International School, Middle Georgia Christian Homeschool Association, and Lee County High School.
The District Champions met in Lawrenceville, Georgia on Saturday, March 14, 2015, to battle for the State Championship title. They engaged in six head-to-head knockout rounds, until there was only one team left triumphant. Pinecrest Academy was edged out just before the Championship Rounds. In the Championship rounds, Northview High School's, defendant team and plaintiff team prevailed over the Atlanta International School's opposing counsel, to become the State Champion.
The State Championship Competition was hosted by the Georgia Bar Association in the Gwinnett Justice Center in Lawrenceville, Georgia. It was judged by approximately 40 attorneys, judges and other legal professionals. Pinecrest students Madeleine Brabrook, W. Clay Childress III, Brian Flanagan and Martin Wehner received Outstanding Performance Awards. In addition, Andy Rodriguez, Jan Rodriguez, and Marty Wehner received awards for Best Witness.
Pinecrest Mock Trial team teacher coach, Bill Donlon, JD, stated, "I'm incredibly proud of our students. They were competing against extremely talented teams and coaches, yet they were able to rise to the occasion and shine through four of the six rounds."
"This firestorm of talent and success is terrific for a school of our size and the best season ever for the Pinecrest Mock Trial Team. The Team and I are especially thankful for our Attorney Coaches, Mrs. Dawn Childress, JD., Mr. Charles Medlin, Esquire, and Ms. Carrie Richardson, Esquire, who put in countless volunteer hours to assist us."
Donlon has been coaching the Mock Trial team for Pinecrest Academy since 2013. The Pinecrest Mock Trial program began in 2010.