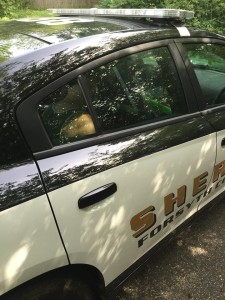 The driver of a Corvettte stolen in Cherokee County was apprehended by the Forsyth County deputies shortly after 5:00 pm today with the help of some observant Forsyth citizens.
During the pursuit of the stolen vehicle, the suspect, James Moss, "began making dangerous actions towards other vehicles, causing our deputies to cancel the pursuit for the safety of our public," said a spokesperson for the Sheriff's Office.
The vehicle was recovered shortly thereafter and deputies set up a perimeter in the area where the suspect fled on foot.
Utilizing Facebook, deputies published a description of the male and observant citizens recognized the suspect. Moss was apprehended and identified as the man from the earlier pursuit.