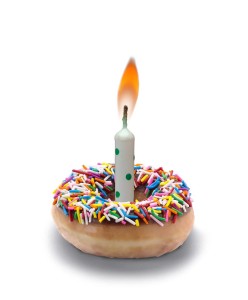 Krispy Kreme is celebrating its 78th Birthday with a special gift for its U.S. fans on Friday, July 10, 2015. Stop into a participating Krispy Kreme® U.S. shop and pick up a dozen Original Glazed® doughnuts for 78 cents with the purchase of a dozen of any variety doughnuts–including Krispy Kreme's deliciously festive Birthday Cake Batter Doughnut.
Celebrate Krispy Kreme's 78th birthday with these tasty confetti and cake batter treats. Available at participating locations July 6, 2015 through August 30, 2015.
Krispy Kreme Birthday Cake Chiller: A sweet, creamy cupcake-flavored iced beverage topped with whipped cream and sprinkles.
Birthday Cake Batter Doughnut: A delicious doughnut filled with a blend of KremeTM and birthday cake batter-flavored filling, topped with a cheerful yellow icing and bright confetti sprinkles.