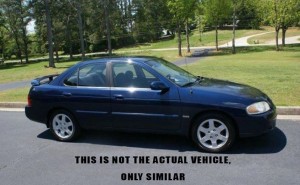 Update:
The Forsyth County Sheriff's Office reports the vehicle involved in the hit and run incident on Sunday has been located.
"Crash Investigator, DFC Nelson, conducted a very in- depth investigation, ultimately locating the vehicle and identifying the driver, Stephanie Anderson, 28, of Cumming," said a spokesperson for the Sheriff's Office.
Anderson was arrested and charged with Felony Hit and Run, Failure to Render Aid, Serious Injury by Vehicle and Failure to Maintain Lane.
According to the Sheriff's Office, evidence from the crash and investigation indicates Anderson left the roadway and struck the victim, who remained seriously injured in a ditch until a passerby noticed her over an hour later. Anderson did not stop.
************
The Forsyth County Sheriff's Office seeks the public's help in locating the driver in a hit and run incident early Sunday morning.
Between 4:15-5:45 am Sunday, June 21, a woman was struck by a car while walking on Canton Highway (GA 20) near Tower Road. According to a Sheriff's Office spokesperson the woman was completely off the roadway. The victim was seriously injured and was found in a ditch when a passerby saw her dog and came to help.
Deputies are searching for a blue 2003-2006 Nissan Sentra. The vehicle, shown here, may be similar, but is not the actual vehicle. The vehicle in question will now be missing the passenger side mirror, fog light, and headlight lens.
Please contact the Forsyth County Sheriff's Office with any information about this incident.