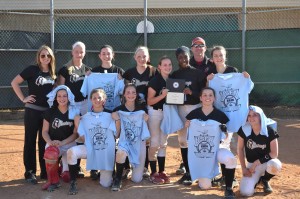 The Georgia Mustangs 00 Red 14UA fastpitch softball team kicked off the 2015 season with an undefeated run in seven straight games to capture the USFA Diamond Battle Championship 5-2 vs. the Georgia War Hawks in Gainesville, Ga.
Coached by Anna Dankewich and Jim Sargent, the 11-member Mustangs played complete team softball and swept the competition in a field of 15 teams from across the state.
Using a combination of strong pitching and defense with a dose powerful hitting, the Mustangs outscored opponents 48-14 during the two-day event at Lanier Point Park.
Four Cumming area players including Kelsey Schell, who belted a grand slam HR in game 6 and finished with seven RBI over the weekend; her twin sister Ashley smacked seven hits; Karly Donaldson scored eight runs and batted .455 and Avery Wassilchak pitched her way to three wins and scored the winning run in the championship game.
The team will travel to compete with 44 teams in the ASA Qualifier Warm-Up Champions of Dalton tournament in Calhoun and another 59 teams in the ASA 14A Georgia Association Berth Qualifier in Woodstock in back-to-back weekends in late March.