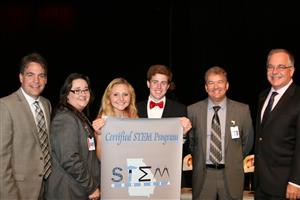 The Georgia Department of Education has awarded Science, Technology, Engineering and Mathematics (STEM) certification to Forsyth Central High School. Forsyth Central is the sixth high school in the state to be awarded the designation and the 14th school overall.
To qualify for the state certification, the STEM practice must be in place for four years at a school. The STEM Academy at Forsyth Central HS opened in August 2011, and enrollment is available to students entering ninth or tenth grade from across Forsyth County. In 2013, Forsyth Central HS received the Technology Association of Georgia's STEM Education High School Award.
"Forsyth Central High School provides opportunities for all students to develop a passion for STEM," Superintendent Woods said. "Engineering and biotechnology are woven into the regular academic curriculum; business partnerships provide internship opportunities to seniors; and competitions give students a chance to take their skills to a higher level. As we work to personalize education for all students, Forsyth Central is a model for the state."
To earn STEM certification, the school had to submit an application showing that it meets specific criteria, including evidence of teacher collaboration, business and industry partnerships, high levels of math and science instruction and an integrated, project-based STEM curriculum. A team from the Georgia Department of Education visited the school to observe the program.
At Forsyth Central High School, two CTAE pathways – Engineering and Biotechnology – are integrated into the academic curriculum. Both pathways require high-level math and science coursework. Students participate in a variety of STEM competitions and academic challenges, and area business partners provide a host of real-world experiences that prepare them for STEM careers after high school. The GaDOE team that visited Forsyth Central also noted the school's "exceptionally competent" staff members.
Learn more about STEM schools at www.stemgeorgia.org