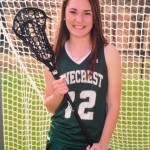 Pinecrest Academy Sophomore Sarah DiFazio has been selected to play on the Georgia National Lacrosse team.  The Pinecrest Varsity player also competes on XTEAM in the off season.
The national tournament, held annually in May with its origins dating back to the early 1930s, will be held at Lehigh University in Bethlehem, Pa., May 23-24.
The Schoolgirls division is the largest segment of the national tournament, with nearly 60 teams competing annually in this division. As such, the event has been become one of the marquee college recruiting events in the country.
Players must try out for regional teams in order to participate and the majority of players are rising seniors or younger.  Georgia will be taking two teams with girls from Georgia and Alabama.